The Event of the Season.
Date & Time

April 29, 2023 at 8PM EDT

Location

JW Marriott
235 Louis Campau Promenade NW
Grand Rapids , MI 49503
Prom. Re-Imagined, Re-Mixed, and Inspired by the world of James Bond. Grand Rapids' biggest event in recent years is designed for the 21+ crowd that's ready to dress in their finest and party on level 7,000!
Expect elevated creativity in all aspects of this event ; from the Fashion Show & the VIP booths, to the space design and projections….and of course, the cocktail menu. Shaken, not stirred.

AB & DJ Composition will trade DJ Sets All Night as the timeless soundtrack hits perfectly from all angles.

General Admission Tickets are currently just $40 through April 15th!


VIP Options Available! See Details Below: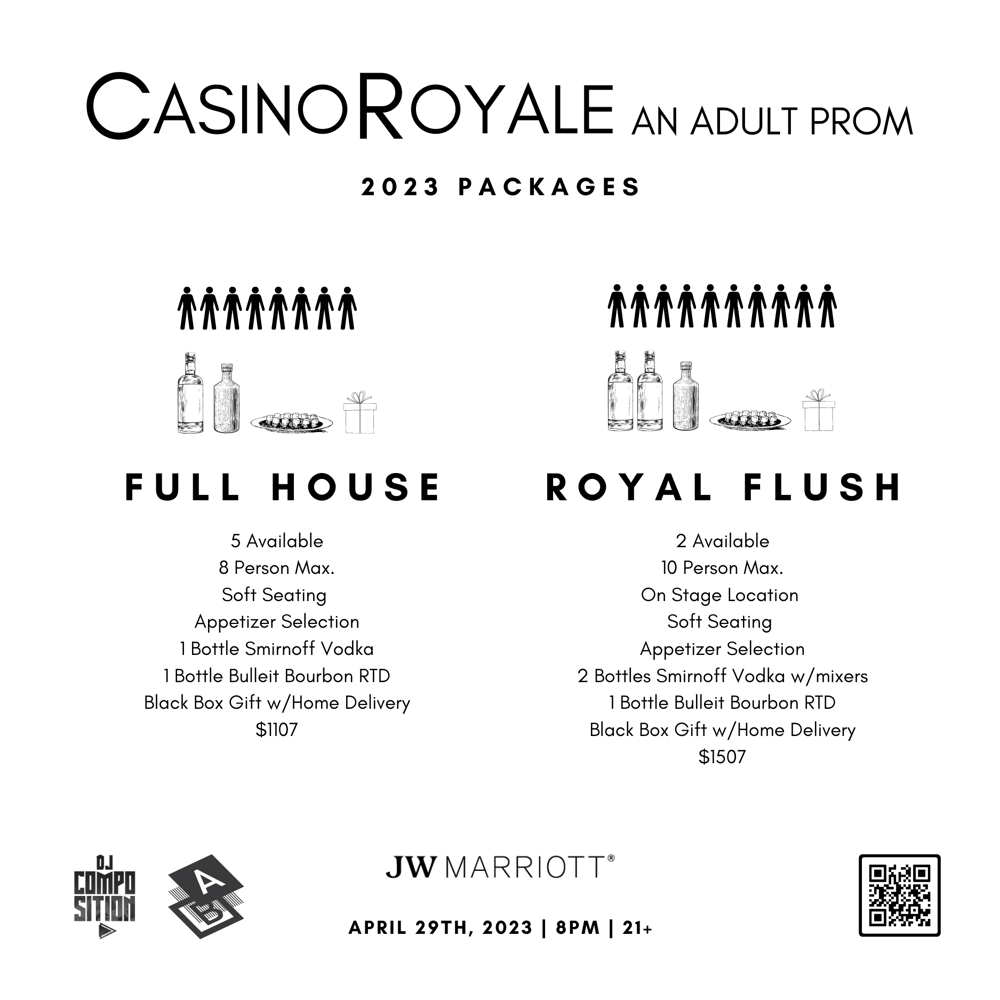 VIP Options
Casino Royale: An Adult Prom, 2023 Packages:
Royale Flush ( 2 Available )
- 10 Person Max.
- On Stage Location
- Soft Seating
- Appetizer Selection
- 2 Bottles Smirnoff Vodka w/mixers
- 1 Bottle Bulleit Bourbon RTD
- Black Box Gift w/Home Delivery
- $1507
Full House ( 5 Available )
- 8 Person Max.
- Soft Seating
- Appetizer Selection
- 1 Bottle Smirnoff Vodka
- 1 Bottle Bulleit Bourbon RTD
- Black Box Gift w/Home Delivery
- $1107